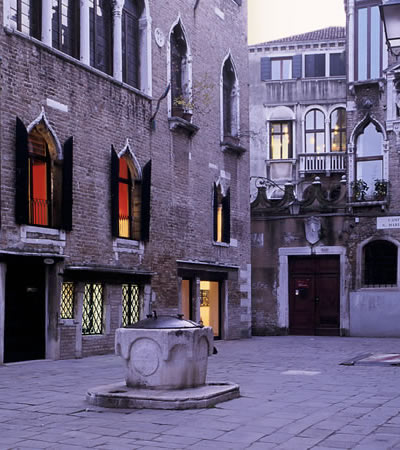 Place

Why Venice?

Venice is born from the genius and the grandeur of merchants, bankers and architects. The atypical but blazing architecture of La Serenissima survived the natural elements that have been threatening the city since its foundation whilst becoming a part of the humanity's urban and architectural history. Its wealth, a product of trade and sail, gave birth or attracted, as centuries went by, many renowned talents, from Bellini to Tintoret, Lotto to Véronèse, Tiepolo to Canaletto, Monteverdi to Vivaldi, and from Palladio to Scarpa.

It was only during the XXth century that the ancient Republic of the Doges– from then on a part of the new-born Italy– found once again its fine vocation of contemporary art and architecture, thanks to the biennales and the Mostra (first cinema festival ever organised). Its heritage was once again enriched thanks to new patrons (from Peggy Guggenheim to François Pinault) and their foundations. They redeveloped palaces and historical infrastructures with the touch of Tadao Ando or Renzo Piano.

Whilst facing the excessive size of mega(lo)poles resulting from globalisation and its climatic changes, the architectural debate became essential at the beginning of the new millennium.
Sticking to its founding principles of the architectural creation, AS.Architecture-Studio has created a meeting place around contemporary architecture.
Venice rightfully imposed itself as a symbolic counterpoint to the « wild cities » of the XXIst century. Thus, spices and other kinds of resources no longer define the commerce of Venice. They have been replaced by ideas, concepts and other immaterial values our world needs so much.

The CA'ASI

Not far from Rialto and Palazzo Boldù, CA'ASI occupies three levels of a beautiful mediaeval palace located at the heart of Cannaregio and next to Corte Secundo del Milion, where Marco Polo's house lies. They have the same typology and the same occupancy principle.

The 500 sq metres of the venue (which have been refurbished according to current modern standards) offers:
- On the first floor, this area is prolonged by a lounge that may be used as an exhibition and reception area.
- In addition to this space of exhibition, seven rooms fully refurbished with bathrooms, kitchen and guest rooms, as well as a small two-room flat in the attic.

Image Gallery